LINKS stops residential speculation with luxury high-rise!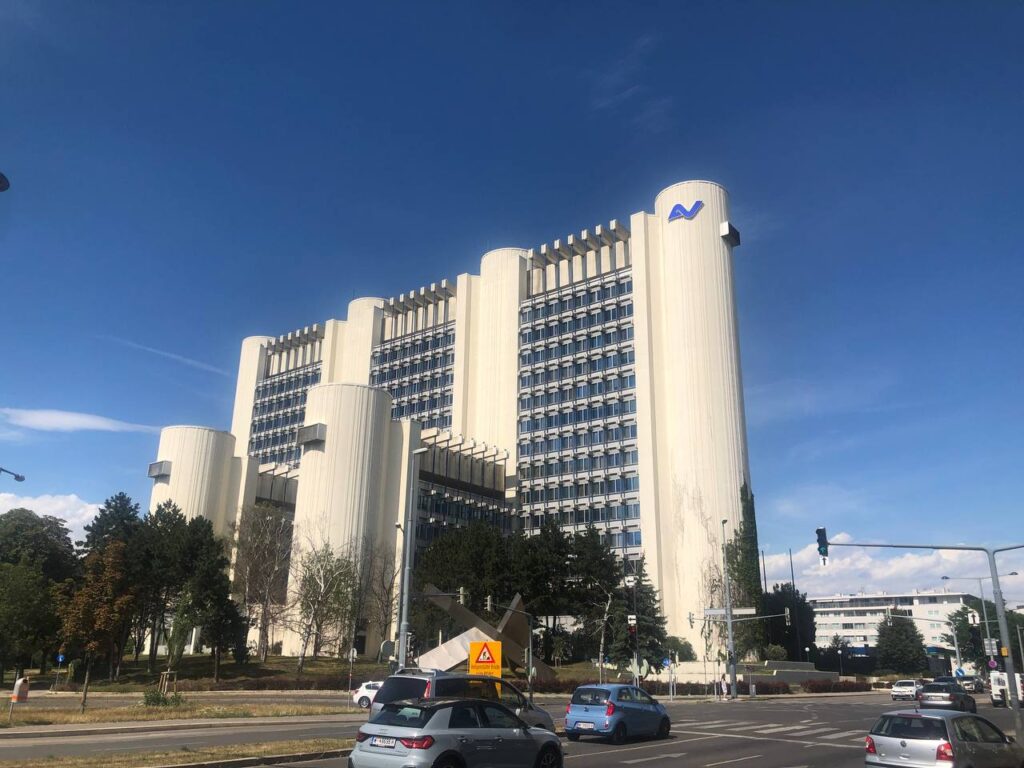 Would you like to live in the shadow of a luxury high-rise block? The ÖVP-dominated leadership of the AUVA insurance has decided to relocate their office in 2021. They want to sell the AUVA building to investors. The site is extremely valuable as buildings almost twice the size of the current AUVA building may be legally built there. A new buyer might tear down the old structure and build much higher towers with luxury flats. LINKS wants to prevent this!
Our motion to allow only regular-height buildings including social housing was accepted by a majority in the district council, but failed due to legal concerns by the city councillor in charge.
Therefore, we have now suggested a temporary ban on building on the AUVA site to prevent speculation. This motion was accepted in the district council (against the votes of the ÖVP) and was now also confirmed by a majority in the municipal council.
LINKS will now press for social housing to be built on the site as soon as possible.
Our work in the district council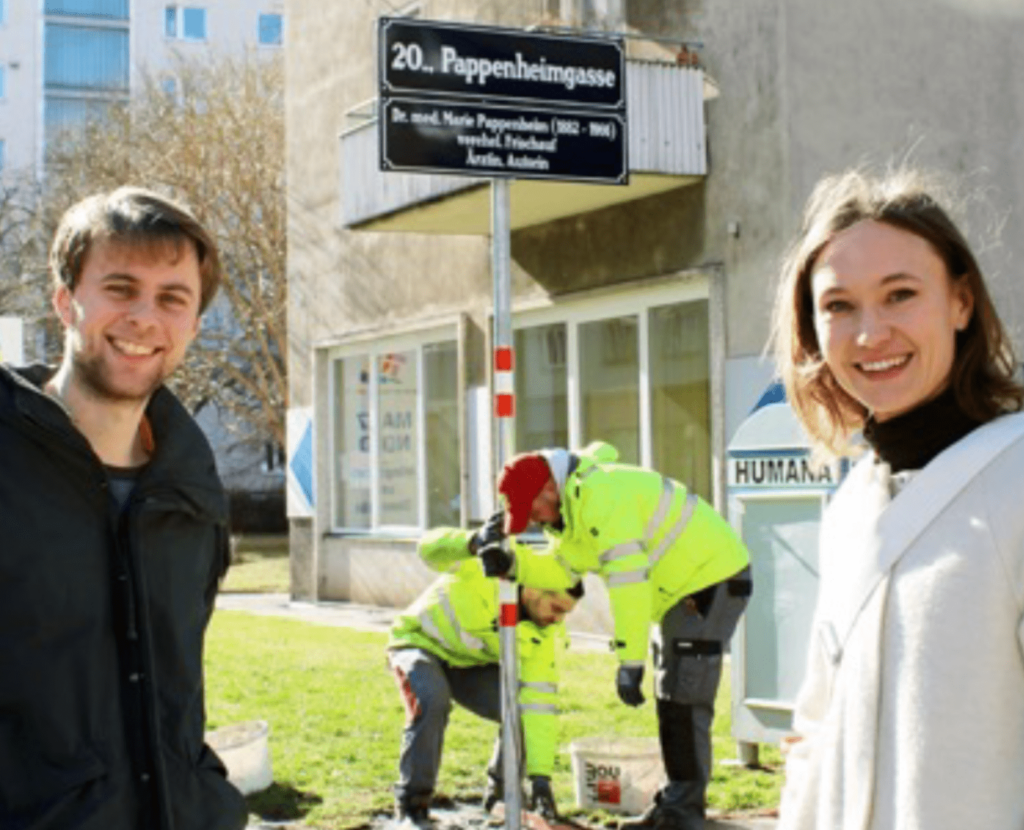 The district council meets eight times a year. With our two mandates, we try to implement our suggestions as best we can. Our greatest successes in the district council so far are:

Ban on building on the AUVA site: By stopping construction, we are preventing potential investors from building a luxury high-rise on the AUVA site on Adalbert-Stifter-Straße.

Livestream of district council meetings (together with NEOS): You can now watch all district council meetings live and from home. The district council's work thus becomes more public and transparent. Tune in: https://www.wien.gv.at/bezirke/brigittenau/politik/bezirksvertretungssitzung-livestream.html

Renaming of Pappenheimgasse: Pappenheimgasse has now a new patron: the doctor, author, and socialist Marie Pappenheim. All addresses remain the same, but the Habsburg general Pappenheim, a butcher during the 30 Years' War, is no longer commemorated.

No events venue in Augarten: The district clearly positions itself against any proposed events venues in Augarten. Augarten must remain freely accessible for those who live here!

Bus stops on Engerthstraße/Traisengasse: During rain, people used to end up in slush when getting off the bus. Thanks to our initiative, there is now water-permeable small stone paving. Good for the passengers & good for the trees!

Removing the "Islam map": The district demands the removal of the racist "Islam map", which makes religious institutions in our district a target for attacks.

Pedestrian crossings and bicycle crossings Hellwagstraße (together with SPÖ & NEOS): There will be marked bicycle crossings at two dicey intersections on Hellwagstraße and on Universumstraße (there, also a pedestrian crossing will be added).

Not all of our initiatives met the other parties' approval. What we have not been able to achieve so far (but we'll keep trying!):
Participatory budget: All citizens should have a direct say in how district money is spent. One item of the district budget should be reserved for your own ideas.
Seebrücke: We want to declare Brigittenau a "safe haven" for refugees and show solidarity and support for people fleeing war or economic misery.
Tempo-30 on Sachsenplatz, next to the playground (together with SPÖ): The City of Vienna magistrate rejected our motion to impose a 30 km/h section on Wallensteinstraße next to the playground at Sachsenplatz.
Dumping ground: Our motion for mobile collection points for hazardous waste was considered too costly by the magistrate. Illegal rubbish dumps in the district are increasing. We urgently need a rubbish dumping ground in our immediate vicinity again!
Traffic lights at Dresdner Straße/Winarskystraße: The push button traffic lights remain in place, pedestrians and cyclists continue to be disadvantaged compared to cars.
Neighbourhood without partner violence ("StoP", together with the Greens): The neighbourhood project StoP sensitises district residents for partner violence and organises women's and men's gatherings. Three women were murdered in Brigittenau last year! The most dangerous place for women is their own home. Violence by men against women and children exists in all social classes. In Brigittenau our motion was eventually rejected by SPÖ & Co after continuous delays!
LINKS celebrates: The residential street is ours
Othmargasse is the gateway to Hannovermarkt and the meeting point for many market visitors. Unfortunately, it often gets bogged down in traffic chaos, especially at weekends. In 202, a section of it was therefore declared a "residential street". People should be able to walk, linger, play, and spend their time here without danger. Cars are not allowed to drive through – and enter and exit only at walking speed.
Unfortunately, nothing has changed since: Cars continue to dominate the streets and the majority of district politicians are not prepared to implement further measures for the quality of life of the district's residents.
LINKS Brigittenau has been calling for a real traffic calming already for a long time. We therefore blocked the street on 4 June and celebrated a "residential street festival" to show how beautiful Othmargasse could be FOR EVERYONE, if only we would make it happen. Again next year?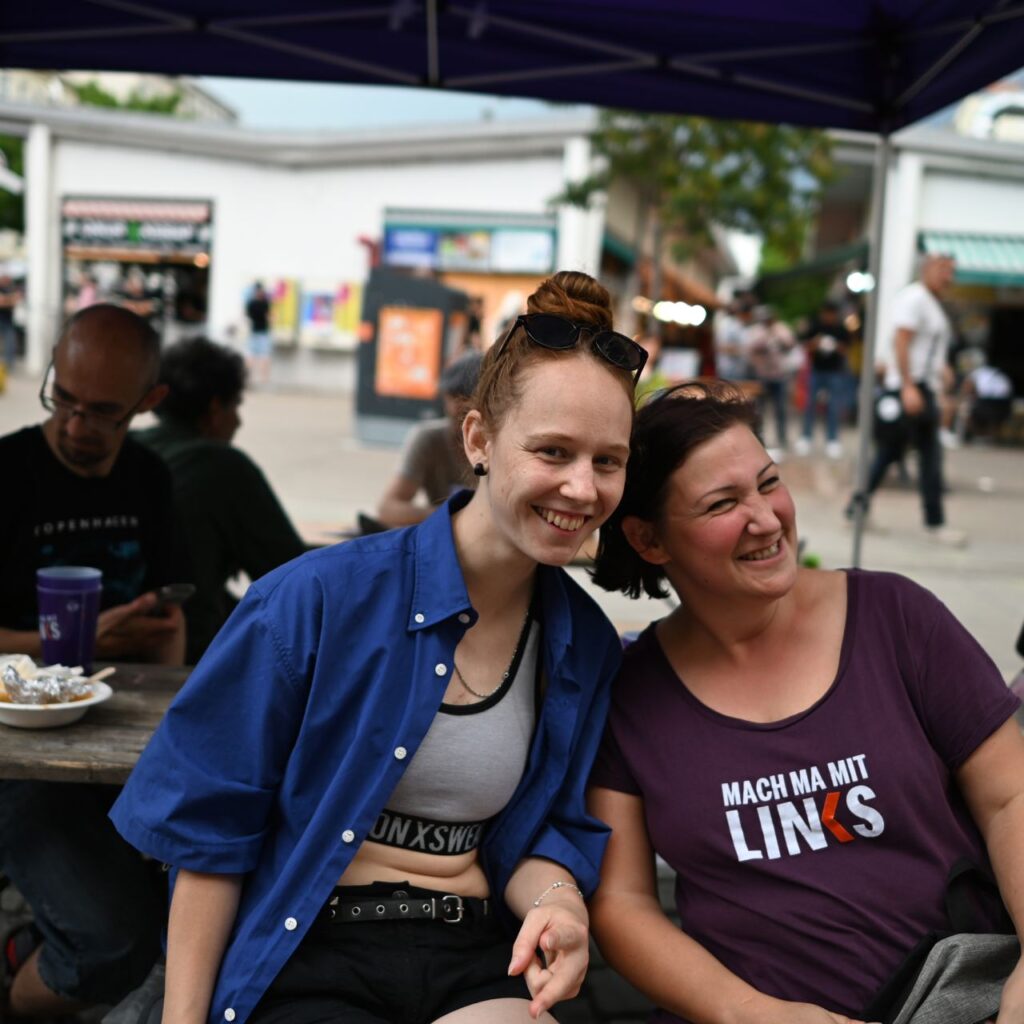 Brigittenau is LINKS – together for our district's future in solidarity!
LINKS Brigittenau meets regularly in our district – we discuss and make plans on how to improve people's lives.
You want to join? Write an email to brigittenau@links.wien or get in touch with us on Facebook, Instagram or Twitter!